iPETRO has the perfect solution you need when setting up a small depot refuelling station with a remote fuel management system for your fleet of vehicles.
Plug-n-play has been taken to another level!
iPETRO has recently been involved with a project, where our client's office is based in Brisbane but he has 3 business locations in NSW, QLD, and WA.  The client wanted to save costs on fuel by buying fuel in bulk.  The main aim was to allow him to remotely manage and track all dispensing and stock levels of Diesel and ULP on the 3 locations from the Brisbane office. By installing a Small Depot refuelling station with a remote fuel management system at each location, we were able to customize the depots to all the project requirements.
How was this achieved?
A PETRO Self Bunded Liquitainer bulk fuel tank was installed at each location. The PETRO 30,000L Tank comes with Built-in Bunded Pump Bay and lockable doors. Inside the weatherproof pump bay, we installed an 80Lpm iPETRO Bowser/Dispenser with a built-in iPETRO Fuel Management System.
A smaller 11,000L PETRO Self Bunded Store Tank was also installed in close proximity to the larger Liquitainer Tank.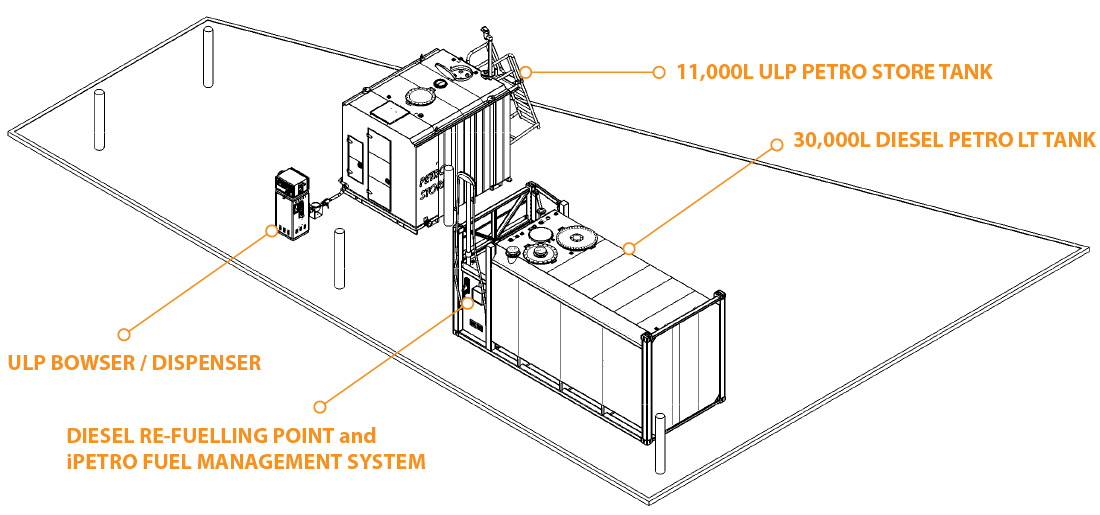 According to safety standards the tanks had to be separated for flammable zoning. The iPETRO Refueller is placed about 2m in front of the ULP PETRO Store due to flammable zoning. The FMS controls both the ULP and Diesel dispensing points.
The iPETRO Fuel Management System installed inside the Liquitainer Tank will service both the Diesel and ULP tanks, recording and saving all dispensing activities at both pumps. The client will be able to track and manage all vehicles and drivers using refuelling depot from the comfort of his computer, tablet, or mobile phone from anywhere in the world using the iPETRO Cloud-Based Portal.
All PETRO installations are done by highly qualified and Hazardous Zone Certified technicians. iPETRO is a durable Fluid Management System that is made for operating in harsh conditions, giving you that all-important reliability and peace of mind.
PETRO's solution to install the Small Depot refuelling station with remote fuel management systems at the various location has helped lift our customer's business to a more professional level. Allowing for more time to plan the next great adventure.
Take FULL CONTROL of your fleet with a custom-made iPETRO Solution!