Re-fuelling your fleet in style with this multiple dispensing point Truck Depot
PETRO and iPETRO were approached to custom design a concept for a Truck Depot with multiple dispensing points and an iPETRO Fuel Management system in place to monitor all the dispensing points.  All the electrical (design and installation) was done by PETRO's highly qualified engineers and installed by our very own Hazardous Zone Qualified installation team.
Multiple Dispensing points and Bulk fuel storage tanks
PETRO approached the Truck depot with multiple dispensing points by installing a 20,000L Self-bunded Adblue Tank in between two 110,000L Self-bunded PT-Series Tanks under a pre-constructed canopy and adding an iPETRO Fuel management system that can track the multiple dispensing points.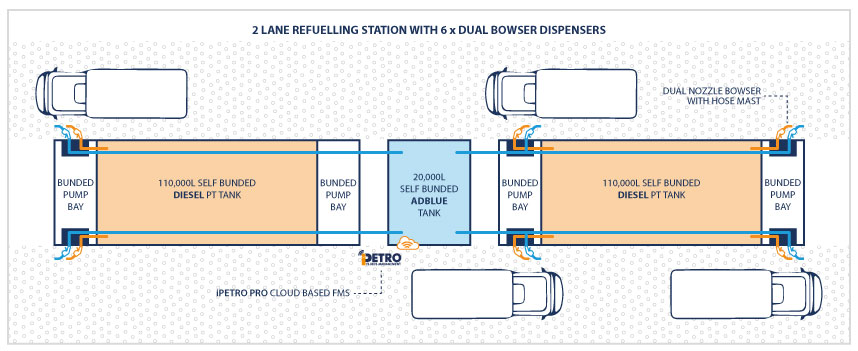 This design gave the customer two re-fuelling lanes, with multiple dispensing points one on each side of the tanks.  As the illustration indicates, each lane has 3 dual re-fuelling stations dispensing fuel and Adblue from the same dispenser.  The pipe work and cable trays were designed (by PETRO) for the Adblue tank to feed liquid to each PT tanks Pump Bay.  Each PT tank is equipped with 3″ road tanker unloading kits with two submersible pumps (4 in total) pumping at over 100lpm (as required) to the dual dispensers.  The delivery hoses were installed on high masts for longevity and ease of use.
All 6 stations are connected to PETRO's Cloud-Based iPETRO Pro Fuel Management System and will record and save ALL dispensing activities at the pump for fuel and Adblue. The driver of the trucks will be assigned a personalised code to input on the iPETRO Pro console before the pump will be activated and duel dispensed. This allows the customer to keep track of specific driver activities.
With an integrated tank gauging system connected to the iPETRO FMS, the low level of the tanks can be monitored online, in real-time, from anywhere in the world.  You will also receive an E-mail alarm notification of low levels. All you need is internet access!  The iPETRO Pro FMS is our flagship system and provides the user with powerful reports making future planning and budgeting easier.
You will be in FULL CONTROL with the iPETRO Pro FMS!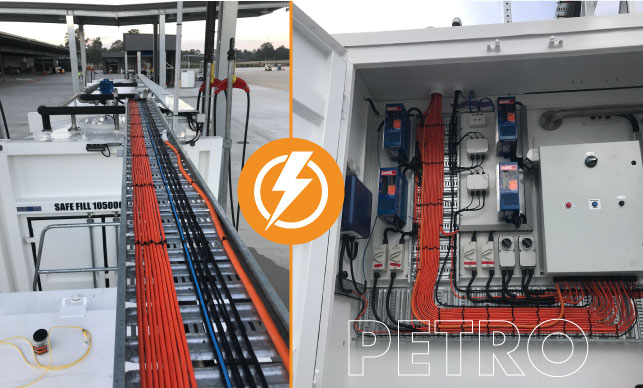 The "state-of-the-art" electrical design work was done by PETRO's very own electrical engineers and installed by our Hazardous Zone Qualified installation team.  As shown above, we pride ourselves by our professionally executed installs (complete with Control Board) that are compliant and up to code regarding relevant regulations and certifications.